Know What to Do When Scanpst Does Not Work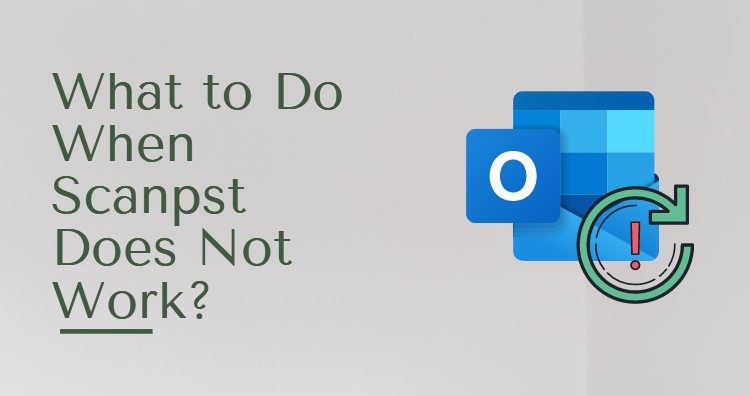 Hello,
I tried to run scanpst.exe but the program was aborted with the remark that I should run scandisk and then try again. Scandisk did not bring any error message, so the disk is fine.
I have tried everything several times to retrieve my mails again but got no success. Does anyone know if ScanPST does not work, what other option do I have to repair my data file?
Outlook stores emails from POP3 mailboxes, addresses and calendar data as well as tasks and notes when it is not attached to groupware such as Exchange, MDaemon, or Kerio (* .pst). If such a file gets damaged there are several ways to save at least some of the data.
Microsoft provides ScanPST as a good way to patch the data file. Experience has shown that we have been able to restore everything a few times. But what if it gets failed and gives you an error message that Outlook scanpst does not work? The error generated for failed scanpst attempt are as follows:
"Scanpst.exe fails to start"
"scanpst.exe does not work"
"Scanpst.exe not found"
"SCANPST.EXE not found component; this application failed to start because OLMAPI32.dll was not found." Reinstalling the application could fix the problem. "
You may receive these error messages or may receive some other error messages. These error messages indicate the inbuilt inbox repair tool or scanpst.exe can not repair the damaged pst file from Microsoft Outlook and simply you can say that "Scanpst.exe" is not working.
So here we will be discussing the solution on 'What to do when scanpst does not work' , But first let us find out the reasons of why Inbox Repair Tool process get Failed.
Outlook Scanpst Does not Work – Reasons
There could be a number of reasons due to which scanpst.exe fail error comes. Some of them are discussed below:
Scanpst.exe is unable to fix corruption in the files.
"Scanpst.exe" is infected by any virus, trojan, or spyware.
Infections Responsible for Inbox Repair Tool Scanpst.exe Failed:
Adware
Adware.Craagle! Sd5, Donnamf9, FindSpyware, TheSeaApp, MyWebSearch.au, Adware.MyCoups, Advantage, IsolationAw.A, TGDC
Browser hijacker NowFixPc.com, Widdit.com, Searchswitch.com, Css.infospace.com, Www1.indeepscanonpc.net, I.trkjmp.com, SocialSearch Toolbar, BrowserQuery.com
Ransomware
DecryptorMax Ransomware or CryptInfinite Ransomware, CryptXXX Ransomware, FessLeak Ransomware, CrypMIC Ransomware, avastvirusinfo@yandex.com Ransomware, JS.Crypto Ransomware, Cyber Command of Arizona Ransomware, Svpeng, PayDOS Ransomware rQuery.com
Trojan
I-Worm.Finaldo, RemoteAccess: Win32 / DameWareMiniRemoteControl, Trojan.Comquab.A, Virus.Obfuscator.ZJ, Trojan.Proxy.Bunitu.D, Doomran, Mal / Zbot-U, MonitoringTool: Win32 / Orbond.A, Trojan: Win64 / Sirefef.L
Spyware AdClicker, Contextual Toolbar, Keylogger.MGShadow, VirusSlayer, IcqSniffer, SmartPCKeylogger, IESecurityPro, SystemErrorFixer, SecurityRisk.OrphanInf
PST File size is too big to operate upon. Since large PST files slow down the performance of repair process resulting in 'Outlook Scanpst does not work' error
Hardware Failure is also one of the issue due to which scanpst fails. The hardware failure could be due to any of the reason like failure in the data memory, error of network device or unexpected power failure.
Unexpected shutdown of Microsoft Outlook close the files unexpectedly resulting in Inbox Repair Tool Scanpst.exe failed error as it makes file corrupt and inaccessible
What to do when ScanPST is not responding after clicking on Repair button?
What to do When Scanpst Does not Work? Best Solutions
When users fail to run the scanpst.exe utility, then one can go for a professional solution as an alternative. So let us discuss various software available in the market as SCANPST Replacement.
SysTools
DataHelp
How can they resolve your Outlook scanpst fail error, let us discuss it:
I. SysTools Software
SysTools Outlook Repair Tool helps in repairing damaged/Corrupted data file with both minor as well as major corruption. It recovers all data items like emails, contacts, calendars, etc. It is a great alternative when Outlook scanpst does not work and overcomes the limitation of large data files. You can run this tool on Outlook version of 2019, 2016, 2013 & all below versions.
Some other fascinating features of this tool are:
Repair files in bulk
Recover corrupted data from advanced data types like UNICODE or ANSI
The software rebuilds PST files in PST, MSG, HTML & EML file
Recover password-protected corrupted data file
Option to Export selected data items using Date-Filter option
Repair Outlook .pst file created by scanpst.exe
Steps to Take With Software When ScanPST Fails and Is Not Working:
1. Run the tool and hit the Add File button.
2. Click on Select File and browse the PST file you wanted to fix with Scanpst.exe.
3. After adding the file, choose the Advance Scan mode for in-depth analysis.
4. Let the scanning process complete to view the recovered emails.
5. Click the Export button to proceed.
6. Choose the PST format to get a healthy file and apply Advanced Settings as required.
7. Choose the destination location to save the file and click the Export button.
8. You will get Unicode PST file free from any corruption or damage.
Now simply import this file in Outlook 2019, 2016, 2013, 2010 without any hassle. That's it! You do not need to worry about scanpst not working as this software will take care of all its tasks and many more.
DataHelp Software
PST recovery tool is also one of the most popular tool used by professionals to repair database files. It repair 'Outlook scanpst does not work' error and makes the database file accessible to Outlook.
Some other features of this tool are:
Recover Permanently deleted data items from PST file
Two Different Option for scanning, Quick Scan & Advance Scan
Supports to repair bulk data files
Save recovered items in four different formats
Option of 'Split PST file' to cut files
Option to change the name of default file
Conclusion
"Outlook Scan PST does not work" error is a commonly faced error by Outlook users. Generally, the issue occurs due to corruption in the PST file. The blog discusses various possible reasons why you get 'Outlook scanpst does not work' error. The solution has also been discussed that fixes the errors in PST file and acts as the best alternative to the Inbox repair tool.